I've been using Xamarin University since april this year. My primary goal was to use it for certification purposes. The certification process requires you to follow several live classes where instructors go through the material using GoToMeeting. You can skip some of the required classes by taking an assessment exam.
Assessment exam
When you have some experience with Xamarin, you can consider skipping some 100-level classes by taking an assessment exam. I went through all the required video's for the assessment at a playback speed of 2x to glance through the material quickly. This gave me a solid idea about what level of knowledge would be required to pass the assessment exam.
I managed to score a whopping 88% at the Xamarin University Assessment exam without too much effort. After the assessment I felt that one of the questions was just wrong. So I decided to email Xamarin University about it. Within no time they acknowledged the fact and corrected the question. It was an "all of the above" question, where you could check all answers as well, so that was a bit confusing.
So in fact my final score should have been 90%, but it doesn't really matter. The minimum requirement was 80% over 50 questions.
The classes
I needed to finish all of the required classes before I could take the final exam. Xamarin requires you to live attend most of the classes. If you attend all these classes, you get a link to take the exam.
At first I was a bit gutted by the fact that you had to attend live. I was so accustomed to learning on-demand with services like Pluralsight for example, that I was unsure of the added value of live classes. But after my first few classes, I was proven wrong. The instructors added a lot of value, especially when you had some questions regarding the class material. The other students' questions, and sometimes even answers, were very valuable as well.
It took quite some effort to plan and take all the classes though, since the total runtime of all required classes were about 24 hours of live training (after skipping the assessment classes). This is especially hard because not every class is given every day. Sometimes you have to plan a few weeks in advance. I managed to plan a marathon during a week of vacation to get through it without too much hassle.
There are several class tracks, ranging from normal cross platform development to Xamarin Android and Xamarin iOS to Xamarin Forms. Windows Phone development is not required, but maybe this will change in the future since Microsoft is involved with Xamarin nowadays.
Kudos to the instructors (Judy McNeil, Chris van Wyk and Jason DeBoever) that I had during this time. Most of the time they managed to get a good mix between serious learning and some jokes. Jason had the odd habit of trying to check off every continent with attendants to his classes, which was quite amusing at times.
Studying time
Finally I got through every required class and got a link to the final exam, so now the real studying could begin. I didn't feel like going through every single class video again (there are videos of every class as well for reference), so I downloaded all presentation slides and went through every single one of them. There were about 1350 slides in total, but they contain nearly all information you would need for the exam.
You could choose to do the lab exercises from the classes again, but if you work with Xamarin on a regular basis this shouldn't be needed. At least, I didn't do them for my exam.
The final exam
Before taking the exam I looked at the list of required classes once more and noticed that one particular class (XAM-370) disappeared from the list. It got replaced by another class in the time between studying for the exam and taking the exam. During the exam, no questions were asked about this particular class. So be prepared for changing requirements, but you should always be if you're a developer :-).
The final exam requires you to get a score of 80% or higher with 150 questions. You get about 3 hours to complete it. I managed to complete the exam in about 2 hours and got a score of 92%, which means I got 12 questions out of 150 wrong.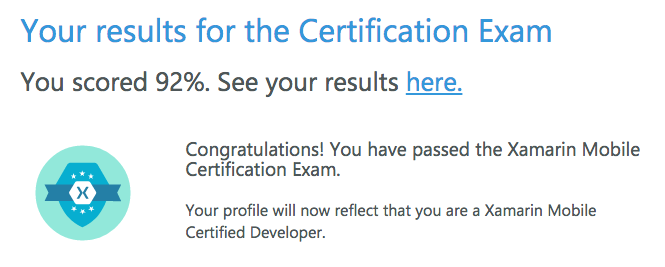 Taking your time and logical thinking gets you quite far in the exam. If I can give you one tip it would be: if you don't know the answer to a question, just go with your gut feeling and note the question number somewhere so you can get back to it when you have time left in the end. Not answering is guaranteed to be wrong.
Once you pass the exam you get a certificate and certification badges for use wherever you want. People can look you up as being certified through the Xamarin Developer Certification page. And you also get a Xamarin Certification trophy to show off. I expected it to be plastic, but it turned out to be made of glass. Very nice!
Is Xamarin University worth it?
There is a steep price point of $ 1995 for enrollment in Xamarin University for your first year. It drops to $ 1499 for each subsequent year. However, if you think about the instructors who put a lot of time and effort in this, it isn't such a high price.
Personally I certainly believe it is worth it, at least for your initial certification process. Although I was using Xamarin for quite some time already I have learned new things in every class I took, even in the 101 classes! So even if you don't want to get certified, you certainly get a lot of value out of Xamarin University.
You also get Office Hours, which means you get up to 8 sessions of about 30 minutes. With Office Hours you can get answers from instructors about classes, code reviews, architectural guidance or general mobile strategy. I have not yet used this, but it certainly adds value. Plus you get some Xamarin swag during the process.
The future will tell if the recertification process is worth it as well. So until then, I would suggest to join Xamarin University if you haven't made up your mind yet.